34 STUNNING Newborn Family Photos & Ideas for your session
Who doesn't love Newborn Family Photos? Capturing this stage of life is so important, it gives us the everlasting memory of how tiny, delicate and precious this new life is. You are not only creating everlasting memories, but family heirlooms. Your newborn will grow up seeing these treasured artworks and can take these moments with them throughout their life.

Newborn Family Photos will make your newborn session even more special! Its all too easy to come up with excuses for why we don't want to be in photos, but these photos will be treasured when you look back on them, the special connection you're sharing with your newborn. Even more so as your newborn grows over the years.

Below is a collection of stunning newborn family photos and ideas to help you plan, and get excited for your newborn session.
Newborn Family Photos
1. This stunning photo is one of our favourites for newborn family photos. The styling is warm with neutral tones and the beautiful wrapped style shows off babies tiny features. Snuggled in between her parents arms you can see the humble and serene love they have for her.
2. One of our most loved family newborn poses is the silhouette photo. A classic Black and White profile photo, that captures the emotion and pure love your share with your newborn.
3. Newborn family photos can also be fun and candid, capturing the joy your new little one brings. Looking at the camera or off to the side, having a nice little giggle as they make their cute and weird little noises, really captures these wonderful and unique moments.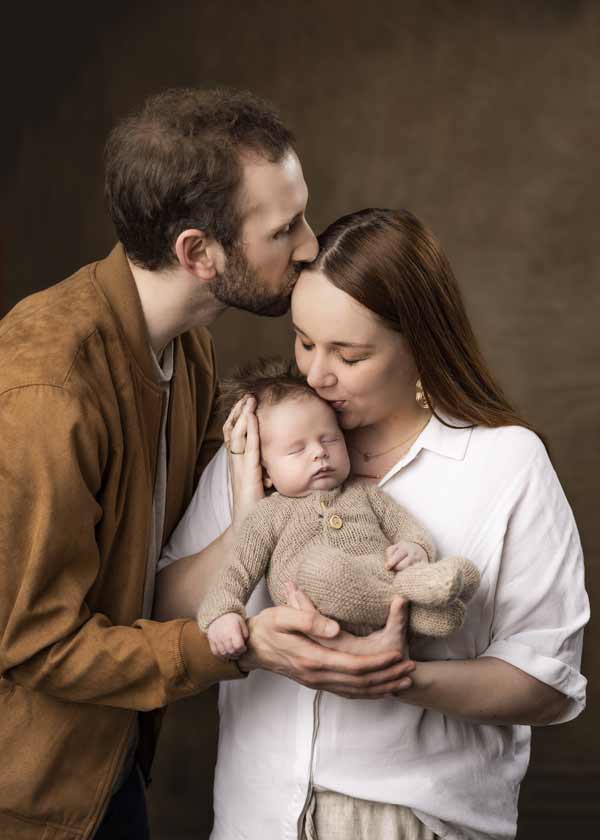 4. The next step in this beautiful Newborn Family photos pose is with Mum kissing baby, and Dad kissing mum. A set up that really captures the love for your new baby.
5. Snuggling in nice and tight, this photograph brings the feeling of warmth and comfort. It also show how tiny your new addition is and that they once fit so nice and snug in your arms.
6. Beautiful earthy tones always make for nice and simple photographs, it allows the focus to be simply on you and your new addition.
7. Another way of capturing your families connection is with baby resting on Dads shoulder, with Mum cuddling in from behind.
Newborn Family Photos with Siblings
8. Our classic Silhouette style can also be taken with siblings. The look between these two sisters just melts your heart and the black and white photos really bring out the emotion of the overall photograph.
9. Newborn Family photos allows you to document not only this stage for your new addition but also the new stage in life of your other children. They too are welcoming a new sibling and best friend into their life, someone to look out for, teach and grow with. Newborn family photos captures the beginning of a new adventure for the whole family.
10. Styling your session is always something that we will discuss. We will help you select tones that you love and to match your style and where you would like to display your artwork. These gold/mustard tones compliment each other and really help to make the family stand out.
11. A simple and yet beautiful moment of a big brothers kiss, documented and captured for them to remember for a lifetime.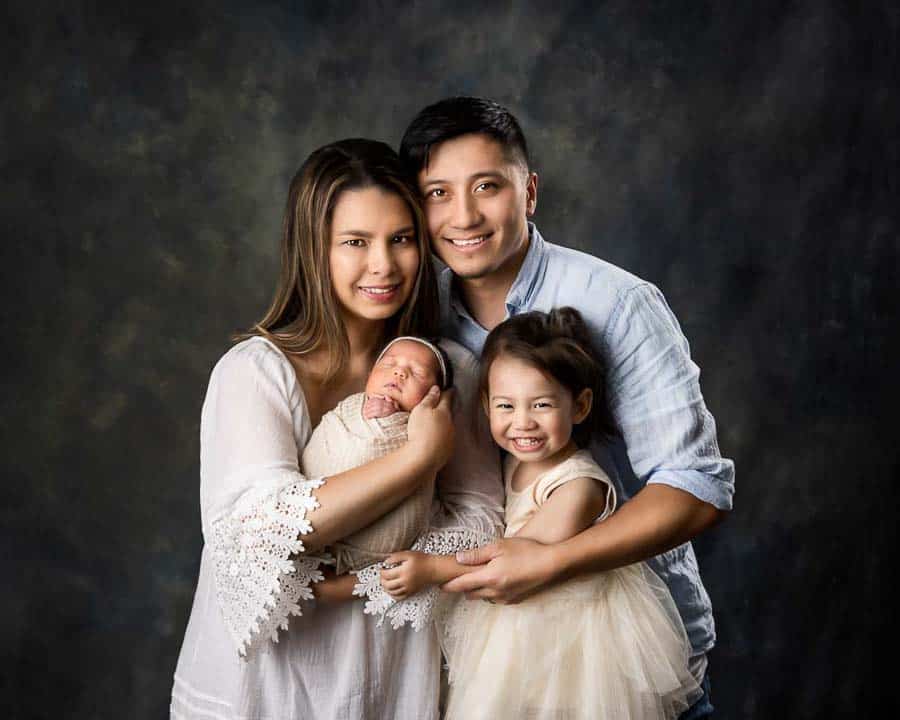 12. How cheeky is that smile? This photograph is full of sweet innocence in this classic portrait and yet also shows the adventurous moment in time we have juggling a newborn and toddler.
13. Every member of your family is welcome at our sessions, whether 2 or 4 legs.
Mum and Baby
Some of the most precious photographs are of you holding your baby, they have been growing inside you for so long and now they are here and they are so little and so innocent and have the whole world waiting for them.
Now is the best time to take these breath taking photos, put on some fresh clothes, do your hair and add some make up. We will position you to get the most flattering angles and capture your love for your little one.
14.
15.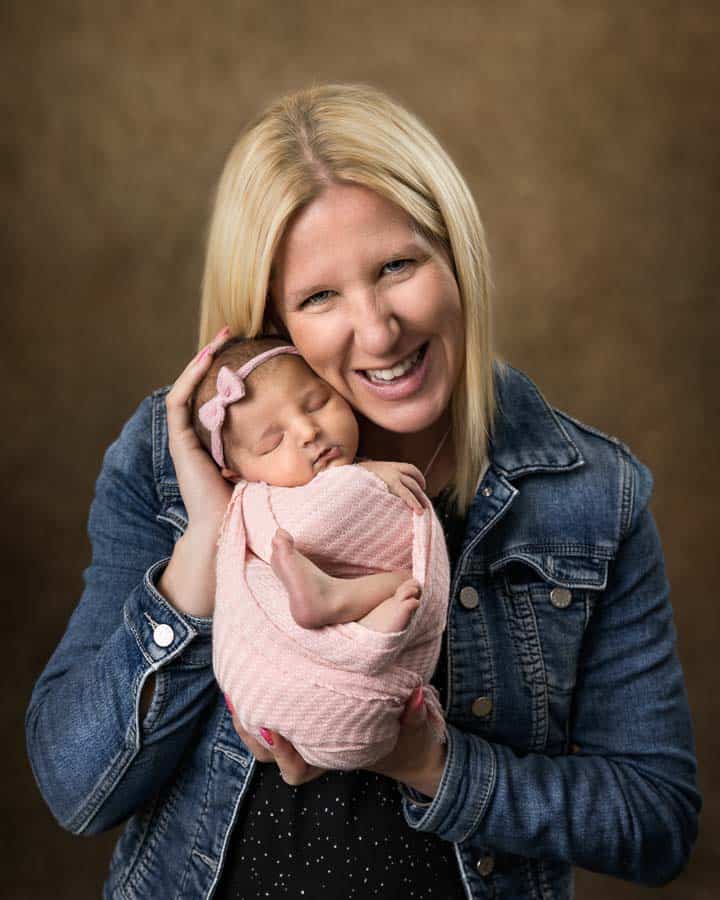 16.
17.
Dad and Baby
Newborn Family sessions are a fantastic way to get dad involved in the photography session and to capture those beautiful intimate photos of a fathers love.
Most dads aren't too keen to get their photos taken but we get them nice and relaxed, maybe even have a dad joke or two, show them how to stand and then simply let the love they have show for their new baby.
Mum will no doubt have the outfits selected so dad looks his best and we will wrap baby to match the colour tones with the whole family. These newborn family photos show how tiny our little additions are before they grow too big for us hold in our hands.
Fathers always have a big part of our hearts and help us through out our lives, but these tiny little souls also change us, giving us the opportunity to be a parent and having this keepsake is something the whole family will cherish.
18.
19.
20.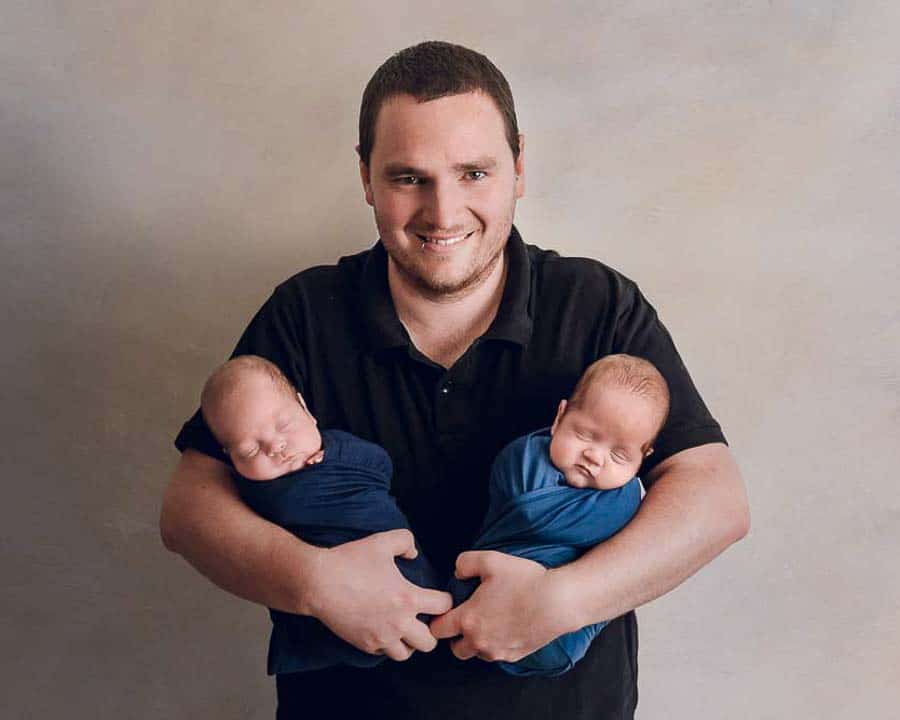 21.
22.
23.
Generational Newborn Family Photos
We welcome and encourage grandparents to come for all our newborn family photos. Having the opportunity to have some generational photographs captured during these early stages create wonderful heirlooms for all three generations.
Grandparents adore their grandchildren and always love to get their photos taken with their family so giving them this opportunity is something they are forever great full for.
24.
25.
Showing newborns tiny scale, and for those who don't want to be in the photo
26. This Newborn Family Photo is perfect for remembering just how small your newborn is, and including Mum and Dad! Posing baby first can allow us to get some cute little shots of baby, we will get you guys to pop behind out beanbag set up and place your finger in your little ones grasp.
27. Can you believe this little precious baby, after growing inside you for nine months, can lay perfectly in your hands? A great way to capture Mum and Dads hands holding your baby.
28. Detail detail detail, with all our newborn family photos we try to take some detail shots to really treasure how tiny their little features are. Teeny tiny toes are always so cute to photograph. 10 little piggies safely in a row, tucked into mummies thumbs before they grow grow grow.
29. Can you believe they start off that small? What a beautiful photo with your little one clinging onto Dad's strong hand.
30. A way to highlight your newborns small scale and highlighting your love, give their feet a little kiss.
31. After 9 months of carrying them, why stop there? This beautiful and symbolic newborn family photo continues the love and care you provide for your newborn.
32. Classic black and whites always make for magnificent newborn family photos, How warm and cosy do you feel looking at this bubba curled up nicely in mums arms where you can see all of his little features. The photo really pops in black and white giving it its timeless and classic feel.
33. Who doesn't love being able to have a memory of how precious and small your kids were at one point in time?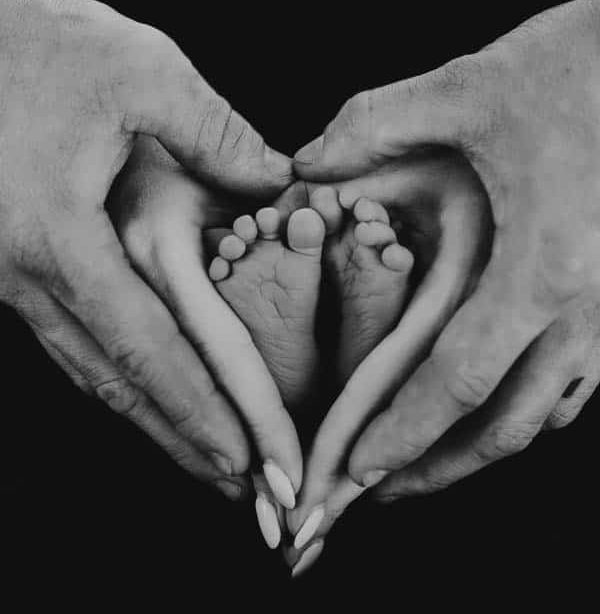 34. Another classic Black and White idea combining both parents is creating a love heart with your hands around your little ones feet. This can even be done with siblings as well to create a layered heart effect. It gives you the feeling of safety and togetherness and again the back and white really helps to bring out all the little details of the toes and lines on those little feet.
So there you have it, 34 stunning newborn family photo ideas ranging from whole family including generations, one on one and closeup detail photographs for you to think about when you have your newborn family photos taken. Which of these stunning newborn family photos will you be wanting to have at your Newborn Portrait Experience?

We're pretty confident you'll be full of ideas and getting even more excited to see your newborn! If you haven't booked in your newborn session yet, head here for all the info you'll need, or if you want to go straight to booking in your session, get your session fee gift certificate right here, or give us a call on 54284961.